Valerian Scented Cat Scratcher / 55 x 33 x 3 cm
Cat Stuff® Scratching Post is eco friendly. Made from corrugated cardboard and glued with starch glue. It is durable and lasts up to year. Your cat can sharpen its claws there, stretch and have a good nap. You can write the cat's name on it. The scent is meant to arouse your pet's interest in scratcher and it is not felt in the room. Scratcher contains particles of valerian plant and this is where scent comes from. It is recommended to use a vacuum cleaner to care for it, but do not wash it. Size 55 x 33 x 3 cm. Weight 0.7 kg.
Customer reviews
★★★★★
Tiiu Kuivjõgi, 21 Sep, 2023
See on lihtsalt super! Kassid isegi magavad sellel 😊
★★★★★
Elle M., 19 May, 2023
Meie Nupsik ei ole seda veel kasutanud,kuna tal on veel eelmine teilt tellitud lõhnata kraapimismatt kasutusel ja see talle väga meeldib.Tellisime selle tagavaraks ,sest oli soodustuses ja eelmine hakkab puruks minema suurest kraapimisest.
★★★★★
Jüri S., 4 May, 2023
Kassi poolt suhtumine positiivne, käib kraapimas.
★★★★★
Aire R., 29 Mar, 2023
Toode saabus kiirelt. Kasse mul kodus 2 tk. Üks armastab selle aluse peal magada, teine kass kraabib väga tihti. Olen rahul!
★★★★★
Anneli T., 27 Mar, 2023
Väga hea toode . Olude sunnil jõudis meie koju 14 aastane kass ,kellel oma kombed ja harjumused. Enne kraapimis matti arvasime et tuleb hüvasti jätta vaibaga ja diivaniga.Nüüd kass lausa magab mati peal ja küüned käivad ka ainult matil :)
★★★★★
Toomas H., 13 Mar, 2023
Kassile hakkas kohe meeldima. Kasutab seda kraapimiseks ja niisama vedelemiseks...ostsin palderjaniga.
★★★★★
Rasa M., 11 Feb, 2023
Katinas pripažino iš karto(draskyklę) ir paliko ramybėje baldus(jau spėjusius gerokai nukentėti).
★★★★★
Rita P., 3 Feb, 2023
Puiki draskyklė! Mūsų išdykėlė dabar turi papildomos,malonios veiklos 😃
★★★★★
Lina K., 26 Jan, 2023
Maniškiai Pindutis ir Diša naudojasi tik tokiom draskyklėm.
★★★★★
Daiva V., 25 Jan, 2023
Ir mano 2 katinukai turi, pešasi dėl draskyklės 😻 Ir miega ant jos, ir voliojasi, žaidžia... Jei trumpiau- tikrai katukams tinka, rekomenduoju 🙂
★★★★★
Remigijus P., 12 Jan, 2023
super puper
★★★★★
Edita M., 27 Dec, 2022
Pačios geriausios draskyklės - sako Mėta ir Martė!
★★★★★
Daiva, 27 Dec, 2022
Sutaršėm jau tris draskykles, mūsų katytė jas labai mėgsta. Šios raskyklės labai pasiteisino mūsų namams, nereikia jokių papildomų stovų-deaskyklių.
"The most beloved. Even sleeps on it😻"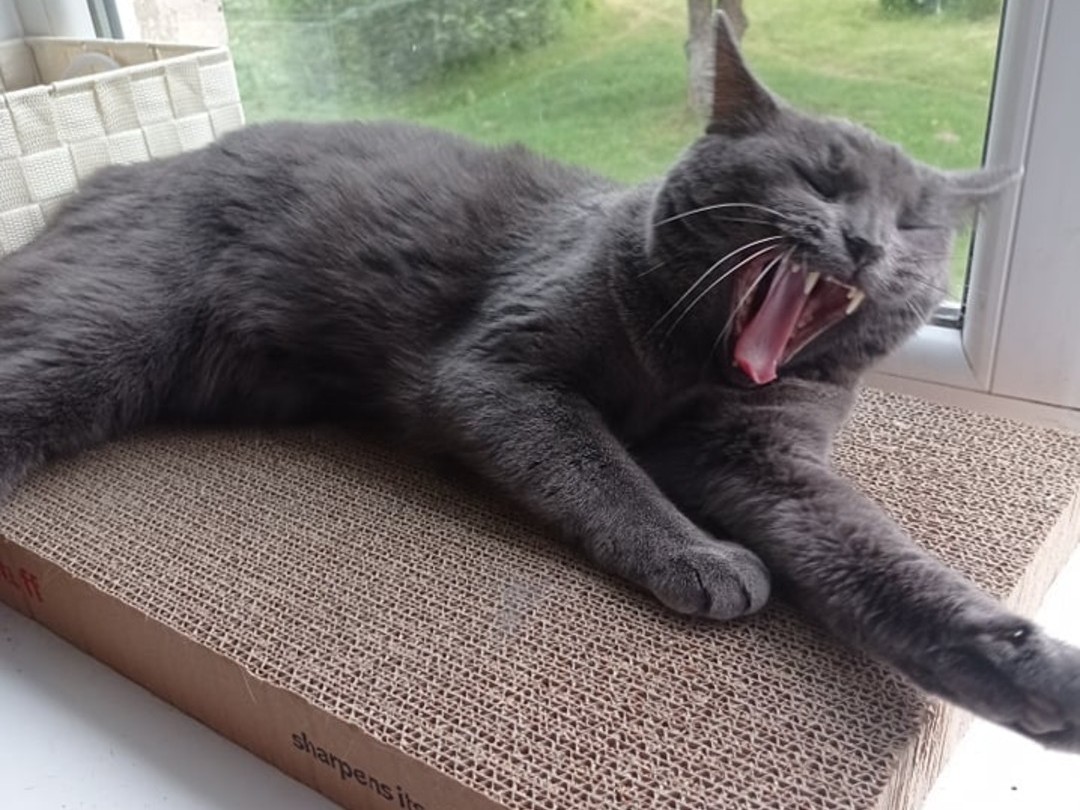 FREE SHIPPING FROM 19.85 EUR